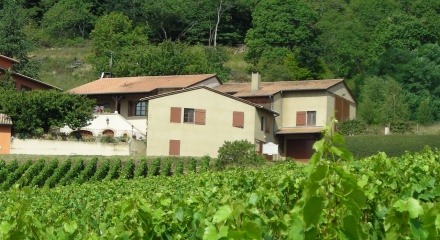 Burgundy
appelation : Mâcon, Mâcon-Vergisson, Pouilly-Fuissé, Saint-Veran
---
Domaine Guerrin & Fils, Vergisson
At the heart of the protected natural site between the Roche de Solutré and the Roche de Vergisson in southern Burgundy, just to the west of Mâcon, it is in the village of Vergisson that our wine estate took root.
Since 1984, the estate has grown and developed, but has always retained a family spirit and a rigorous approach to the production of quality wines. Our vines are split between more than 35 small, mainly limestone plots with a total area of 14 hectares, making up a patchwork of different soil types that offer an exceptional diversity of terroirs. This particularity gives each of our wines a very distinct character.
We produce three appellations: Pouilly-Fuissé, Saint-Véran, and Mâcon-Vergisson.
Our philosophy : Passionate, respectful and responsible
Our hands-on, artisanal approach to viticulture is guided by passion and a constant desire to produce wines of quality and character. Above all, our methods aim to respect the vine, the grapes, and the wines.
TO THE VINE: Respect of the soil and de fruit
We apply winegrowing methods that respect the environment. This is painstaking work, often manual, because the production of quality grapes is essential to our quest for the ultimate expression of terroir. Working the soil is a key step, because it encourages the roots to grow deeper and to draw on the unique combination of mineral elements in each terroir. Modest yields and manual thinning are used to optimize conditions for the health and maturity of the fruit.
TO THE WINERY: Purety,finesse and balance
Harvesting is 90% manual, followed by slow, natural vinification, mostly done using indigenous yeasts found naturally on the grapes, which allows us to preserve all the flavor potential of the juice. The wines are aged on the lees, often in oak barrels, for between 11 to 12 months depending on the vintage and the specificity of the terroir. In order to have a dynamic approach on the estate, we are continually carrying out research and experimenting with new techniques. The aim is to constantly improve quality, and to continue to fashion wines of character whilst preserving the essence of our terroir.
wines from winery